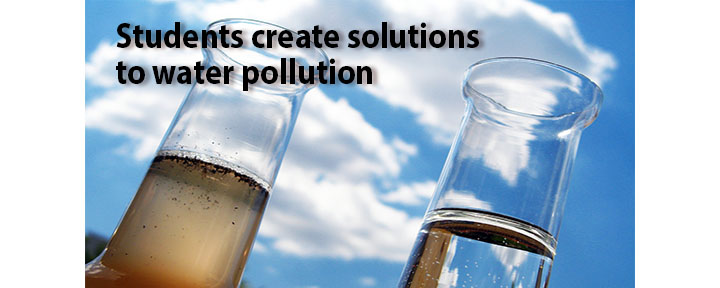 Kids these days! We've left them holding the bag of unintended consequences of our own indulgences, yet our children are still vested in righting our wrongs. What solutions might they find if given the opportunity and resources?
Ishan and Alisha Bhatia are twins. People ask: Do you think alike? You could say so. Both tackled the same global crisis: water pollution, each from a unique perspective. Before they were out of high school, each had discovered viable solutions and showcased them in talks at TEDxMeritAcademy.
Here's what they have to say:
Ishan
Imagine a contagion that popped out of nowhere, threatening 385 million lives with cancer, birth defects, and DNA degradation. It travels through the air, through our food, and even worse — through water. Seemingly innocuous streams meander along, spreading this contagion everywhere.
Unfortunately, this is our reality. Every year, 5.6 billion pounds of pesticides are used worldwide, contaminating our water and food supplies.
After years of research, I discovered an alternative to deadly commercial pesticides that's just as powerful yet completely safe: Cordyceps militaris.
This is a mushroom specialized to kill insects, using spores that breach their exoskeletons, disarm their immune systems, and extract nutrients until the critters die. Only 8% survive the mushroom, versus 5-10% against conventional pesticides.
But to you and me, Cordyceps militaris is a friend, used for thousands of years as a health supplement. That's as safe as it comes for a pesticide.
At TEDxMeritAcademy, I encouraged gardeners to use Cordyceps militaris to rid their plants of common pests like aphids. You can do the same, just by visiting my website, cordyceps-pesticide.com, for instructions for making your own Cordyceps militaris spray.
Try it! Let me know which insects and plants it works with. Let's identify all the insects that Cordyceps militaris can attack, and start replacing toxic pesticides today.
There's a role for each of us in making our food and water safe. Will you join me?
TEDx Talk: bit.ly/3CXXFyW
Alisha
Flames spew from a garden hose and smoke permeates the sky. Laughter-filled playgrounds become toxic cemeteries of childhood memories. In 2015, there were 300,000 hydraulic fracturing wells in the US. Today, there are over 1.7 million.
Noxious fracking fluid infiltrates our aquifers. Communities unknowingly ingest water with over a thousand of volatile organic compounds, heavy metals, and bacteria. The result: cancer, neurological disorders, organ failures, and high-risk pregnancies.
Starting in middle school, I channeled my hope into devising an affordable water filter specialized to capture fracking toxins. I developed a prototype using a pump sprayer, activated carbon, an ethylenediaminetetraacetic acid resin, and a 0.2 micron filter. My filter significantly removed total organic carbon, copper, and microorganisms, though I plan to continue fine-tuning the design.
I was just getting started.
Energy companies were still recklessly drilling. The cries of people petitioning for clean drinking water were lost in a sea of corporate control. Poisoned families were targeted with public ridicule and relocated from their homes under gag orders, preventing them from exposing the deadly truth about fracking.
My years of research culminated in my TEDxMeritAcademy talk, We Have a Big Fracking Problem!. I exposed the companies responsible, sounded the alarm over fracking-induced fatalities, and detailed my water filter solutions.
Wanting to do more, I developed America Is Fracked Up, a national organization. Through its website, www.americaisfrackedup.com, people can locate fracking wells, learn more about commercial water filters, and sign a petition to make gas companies provide them. Instead of spending millions to fight the truth, companies must channel their resources to repair the damage they've done and provide Americans with clean drinking water.
Will you join me?
TEDx Talk: bit.ly/3HeRSHD
We count on our young people to see the world with fresh eyes. Four million teens in this country start high school every year, each of them brimming with potential. Imagine if all students had the opportunity Ishan and Alisha did to start projects and discover practical solutions to the challenges we face. How much more would these students learn? How much more self-assured would they be, knowing what they're capable of? And how much better off would we all be, as beneficiaries of their powerful contributions?