Imagine free child care...what would you do with your savings?
I set up free child care for my family for 9 years; My girls went on to Stanford Medical School and Northwestern's Kellogg School of Management
Merit can help set up your free child care program in your home!
Why I Set Up Free Child Care for My Children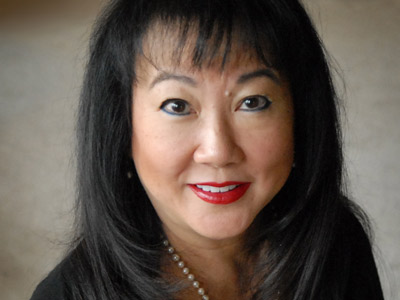 When I was pregnant with my first daughter Nicole, I worried about preschools and how to afford child care. After she was born, I set up a preschool program that would include all of the activities and skills I wanted her to have. I designed the Merit Preschool Program to tap into children's innate curiosity to learn. When Nicole was 18 months old, I hired a caregiver to teach her and another child for two hours each day. Every year, we added an hour and another child to the program, and when I had my second daughter Jaclyn, I set up a program for her with 2 children who were her age.

How did they do? I charted the children's progress weekly. By the time they were 3 years old, not only were the children reading, writing, and doing math—but they loved to learn! When it came time to send my daughters to kindergarten, they were reading and writing at a 3rd grade level -- they even wrote short stories. After they started kindergarten, I also set up an after-school enrichment program for them.

The best part, this incredible preschool program didn't cost me a dime! The other students' tuition paid for our talented teachers and all of the materials. With this head start in reading and math, my daughters excelled in school: Nicole went on to Stanford and Stanford Medical School, and Jaclyn went to Claremont McKenna College and Northwestern's Kellogg School of Management.

I wrote The Millennial's Guide to Free Child Care in Your Home to help you set up a program for your children. We also offer consultation to answer your questions.

The Book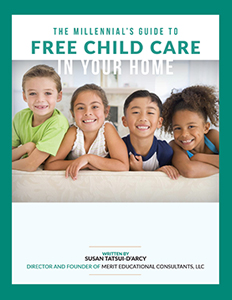 This guide takes parents step-by-step through everything they'll need to know about starting up childcare in their home—from planning to execution. After hiring a caretaker and enrolling a few other children, the business can operate at no cost to the parents.

When it comes to childcare, parents today feel like they're forced into making a big sacrifice. Of course, they want the best for their children, but the best childcare centers have the longest waiting lists and the highest costs, so many parents end up settling for something less than ideal.

Parents need to know that there is a way they can have top-notch childcare, and they can have it in their home at no cost. Following the guidelines in this book, anyone with a little motivation can set up their own at-home childcare, building the top-notch, stimulating environment that their children deserve. Besides setting up the ideal preschool program for your child, you can also arrange to have meals prepared, the house cleaned, laundry done, and errands completed before you get home from work!
$9.99

Set up the Ideal Child Care Program for Your Children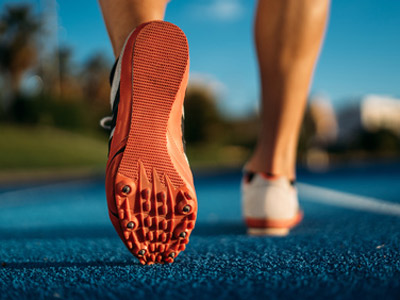 Assess your child care needs Whether you have a newborn or you have several children, determine what days and hours you need child care. Your schedule might be a typical 9-5 or it might vary every day. Once you know when you need support, you can build your plan around it.

Layout a plan Consider what your children love to do and what skills and experiences you want for them. You can include building projects, puppet theater, musical instruments as well as academic readiness skills. Many parents also weave in social and emotional skills. You have the amazing opportunity to create the ideal program for your children!

Set up your program Design the space for your program in any available room. All that's needed is a large children's table and chairs, shelves for materials, and space for group activities. Select and purchase materials and curriculum. You can also add excursions to local parks, beaches and amusement parks to make your program exciting.

Hire teacher and recruit children Select teachers who have expertise in music, art, theater, sports, or academics. That way, your children will thrive in an environment with a teacher who loves their program. Invite children to join by reaching out through social media, networks, and ads. Their tuition will cover the teacher's wages, materials, and overhead.

Need Help? Whether you're creating a part-time program for a couple of children or a full-time program for a dozen children, we have curriculum and advisors who can answer a few questions or set up the entire program for you. Call 831.462.5655 or email info@meritworld.com.
Create Innovative Programs for Your Children So They Thrive at Home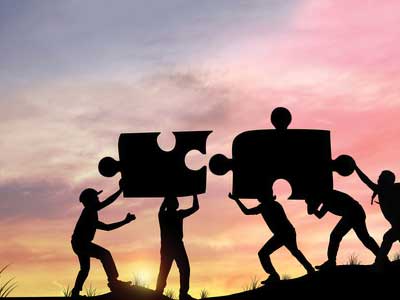 Infant Even with an infant, you can set up in-home child care. When you invite another infant, your caregiver can offer an entertaining program for both. Infant programs can include colors, shapes, music, and art. Infants benefit from being read to and playing games in the comfort of their homes.

Toddler With a toddler, you can invite 1-3 other toddlers to join your in-home child care program. Set up hours around naptimes so your child enjoys playing with other children and engages in the tailored program that your teacher presents. They can learn science (cause and effect), math (counting and grouping), reading (letters and sounds), art (painting, arts and crafts), sports (games and exercise), music and dance, and more. In small groups, toddlers learn how to share and socialize while having fun.

Preschool Preschoolers love their in-home preschool programs. Invite 1-5 other preschoolers to take part in an exciting readiness program. Your teacher can introduce letters and sounds, numbers and counting, science experiments, and other skills that will prepare them to be successful in kindergarten and elementary school. When your children have the guidance from their in-home teacher and friends who share the same program, they'll thrive in this safe environment.

Elementary Elementary school children look forward to exciting activities to do after school. Your teacher can pick them up at school, feed them healthy snacks, and help with homework all before you come home from work. They can also introduce stimulating science projects that the students can do in the afternoon, or they can produce a play. By choosing your teacher, you can set up virtually any program that your children will enjoy.
Enjoy the Independence to Pursue Your Career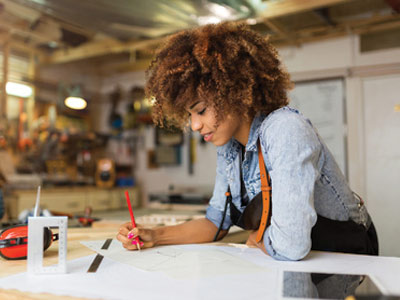 Moms with careers If you love your job but can't justify working because your child care tuition eats up most of your wages, set up your own child care right in your home. By hiring a teacher who comes to your home before you leave for work, you don't have to pack up the kids and rush to day care centers. If you're running late after work, there's no $1.00 per minute fees!

Moms in college Setting yourself up for a lucrative career by going to college is a smart move. Although some colleges offer reduced-rate child care, you'll still have to pay tuition and abide by the center's rules and policies. By having your own child care program in your home, you can set up hours that work with your class and study schedules.

Moms who need independence Sometimes being a stay-at-home mother puts you in a strained relationship with your partner. When your partner makes the money, it makes it financially difficult to leave. Others might want to spend time with other moms, work part-time, or volunteer for an important cause. Having in-home child care gives you that ability to be a stay-at-home mother while also having the opportunity to engage in work and social activities.

Kids love their in-home child care Children who have their own day care program have activities that are tailored to their interests and skills. They can indulge in the arts, theater, and gymnastics as well as learn how to read, and engage in fascinating science experiments, and prepare for kindergarten. When they're sick, they can stay home, so you won't miss work.

Moms who need extra help Imagine coming home from work to happy children, dinner on the table, laundry folded, and a clean house? By having in-home child care, you get to enjoy time with your children and relax. Just have your teacher arrive an hour early or stay after the program to take care of all of the little things -- so you won't have to!
Testimonials
"You have always been a tremendous inspiration to me, and your entire family is so lovely. Thank you for all of the efforts you put into the Merit Academy and for your support in my early education. I feel honored to have you as part of my life! You are amazing!"
-Christina T.
"You have embraced motherhood and have extended your graces to many other children through your academy, all with creativity, vitality, enthusiasm and results!"
-Michele R.