Resumes & Letters of Recommendation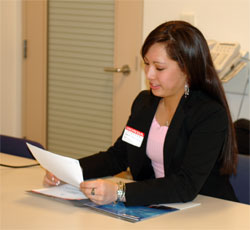 Students learn how to put together resumes and cover letters to get the best letters of recommendation.
Letters of recommendation are important to securing admissions at the most competitive universities. In order to receive an outstanding letter of recommendation, the student needs to supply their recommender with a folder of information that fully chronicles their talents, their experiences, and their potential. This folder should at a minimum include a cover letter, a personal bio, and a professional resume. Our
College Advisors
coach students as they prepare the bio and cover letter. This information helps the recommender to know what aspects of the student to highlight when they write their letter of recommendation. The result is that instead of writing a formulaic letter of recommendation, the recommender writes a letter that truly reflects the character of the student.
Merit College Advisors are available to work with students in two capacities. On-Site Sessions are available to students in Santa Cruz, Cupertino, or Palo Alto. Merit's headquarters are located in Santa Cruz County. Call 831.462.5655 or 877.357.5655 (toll free) to get started. Online Sessions are available for students nationwide -- 24 hours per day.




| | |
| --- | --- |
| Questions? Try our | |
top