Personal Statements & College Application Essays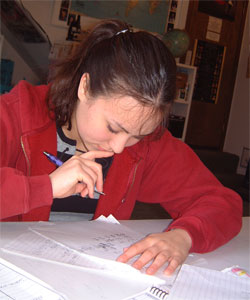 Under Merit's guidance, students learn to write impressive personal statements and essays.
College admissions committees read thousands of student essays, many of which bore the readers because they cover the same old topics and contain the same clichés. If students want to win at the college admissions game, they need to write standout essays that proclaim, "Not only will I be successful at your university, but after I graduate and lead an impressive career, you'll be glad that I'm one of your alumni!"

How can students do it? There's no one trick that works for every student. At Merit, we coach students through the process of writing their admissions essays, focusing on each student's uniqueness and strengths. We help organize an outline to ensure the best results, we edit the first draft for content, tone, and clarity, and guide the student through the final edits that address grammar, word usage, and overall tone. Although we give lots of guidance, we always make sure students are writing their own essays.

We begin by brainstorming for topics that highlight the student's experiences and emphasize their strengths. Students write drafts and then Merit College Advisors coach students through the revision process. If the students need help with grammar and writing mechanics, they can work with our tutors or Online College Advisors to improve their writing skills. By the time they submit their applications, students have essays that dazzle admissions committees.
Merit College Advisors are available to work with students in two capacities. On-Site Sessions are available to students in Santa Cruz, Cupertino, or Palo Alto. Merit's headquarters are located in Santa Cruz County. Call 831.462.5655 or 877.357.5655 (toll free) to get started. Online Sessions are available for students nationwide -- 24 hours per day.
| | |
| --- | --- |
| Questions? Try our | |
top