Four-Year Plan for College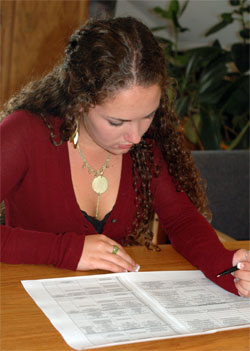 A Customized four-year plan:
Students head off to college knowing what courses they'll take so they graduate in 4 years, instead of five or six!
Course Selection and Prerequisities
Many college students take over four years to graduate because they don't take the right courses and forget to take necessary prerequisites. With colleges functioning on slashed budgets, some courses are only offered once per year or sometimes they're offered every other year. Advanced courses tend to require numerous prerequisites, so you can't get in without carefully planning in advance. That's why it's important to have a 4-year plan coming into college.
After the students have selected their colleges, the Merit College Advisors help the students lay out their 4-year plans. This consists of selecting appropriate courses and planning for prerequisites, consulting with department advisors, setting up internships, and thinking about graduate school.
Graduate in Four Years
The four-year plan is simply a guide for the students to use; things will inevitably change and the plan will need to be adjusted. Regardless, it is important to be thinking ahead so you don't miss prerequisites. Students who work with Merit College Advisors to set up four-year plans have a solid understanding of their graduation requirements and they graduate on time.
Merit College Advisors are available to work with students in two capacities. On-Site Sessions are available to students in Santa Cruz, Cupertino, or Palo Alto. Merit's headquarters are located in Santa Cruz County. Call 831.462.5655 or 877.357.5655 (toll free) to get started. Online Sessions are available for students nationwide -- 24 hours per day.
| | |
| --- | --- |
| Questions? Try our | |
top