Science
at Merit Academy Middle School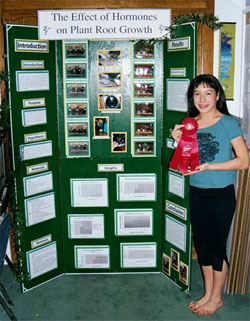 Merit students compete in County and State Science Fairs.
Merit Academy's Science program is designed to instill a love of Science in students, while simultaneously preparing students for Merit's high school Science program. Instead of just reading about science concepts in books, the lessons allow hands-on participation in dissections, experiments, and off-site programs.

In 6th grade, students study Science from the perspective of the scientific revolution of the Renaissance. Since students are also studying the Renaissance in History class, the curriculum builds intellectual bridges across the disciplines. In 6th grade, students also study introductory Chemistry, Biology, Physics and Astronomy. Once the students reach 7th grade they study Human Physiology, allowing them to understand how the human body works. Students study both the Western philosophy of health, as well as the Eastern philosophy. As they learn about the different systems of the human body, students visit doctors that specialize in each. In 8th grade, the students spend the year taking Introduction to Chemistry to pave the way for the rigors of high school Science at Merit.
top