Languages
at Merit Academy Middle School
"Traveling through Mexico improved my Spanish-speaking skills because I had to communicate with the Mexican people. I didn't realize how much I had learned at Merit until I was immersed in the Mexican culture and found myself really speaking Spanish. I was amazed at how all of the grammar, vocabulary, and conjugations I had learned in the class all came together when I started to converse with the local people. Knowing how to speak Spanish became a survival skill."
- Nicole D'Arcy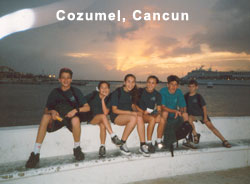 Traveling from Merida to Chichen Itza Touring Mayan Ruins: Students handled motel, restaurant, and transportation arrangements in Spanish.
At Merit, students open the door to diverse cultures through the study of foreign languages.

Merit offers courses in Spanish, French, Chinese, Japanese, German, and Italian. All students are required to master a modern foreign language and to take the AP Foreign Language Exam in high school. To build mastery, the students learn grammar, practice conversations, read literature, write essays, and watch foreign movies. Students have the option of traveling to countries where they can work towards fluency by immersing themselves in the language.
top