History
at Merit Academy Middle School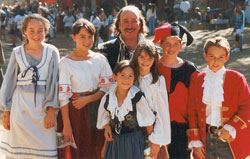 Playing their parts with Shakespeare at the Renaissance Faire.

The History program at Merit offers a comprehensive study of humanity's past, helping students understand who they are as members of a global society. Historical knowledge is the background against which students can understand the struggles of the modern world and the problems of the future. Students who understand the struggles of history make well-rounded thinkers and citizens because they have a better appreciation of current international issues and a deeper respect for the diversity of different cultures.

The History curriculum is arranged in chronological order, helping students understand the historical forces that shaped the modern world. In 6th grade, students review the medieval period and study the Renaissance into 7th grade. In 7th grade, students explore the Reformation, the Scientific Revolution, and European exploration of the world. In 8th grade, students study the modern Age.

The coursework is rigorous. All courses require essays and major research papers. Students deliver speeches and answers questions about their research in addition to creating maps and timelines. At Merit's Movie Nights, students watch films about the historical periods they are studying in class.

The students travel extensively around the world, giving students the opportunity to experience different cultures and to examine history for a different perspective. In Middle School, students travel to England, France, Italy, Germany, Mexico, Costa Rica, Japan, and Africa. In addition to traveling abroad, Meritans also explore the rich history of the United States.
top