English & Literature
at Merit Academy Middle School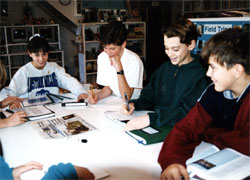 Merit students discuss who will cover each event and lay out a time line.
The English curriculum at Merit Academy focuses on both the critical analysis of Literature and on the craft of Writing. Students read a variety of literary classics to develop an appreciation of major literary genres, to foster their love of reading, and to develop a skill for interpretation and analysis. Students read 12 unabridged books every trimester for a total of 36 per year. Students analyze texts through class discussion and critical essays. Literary texts are often linked with the topics being studied in the History course. This coordination builds a sense of continuity that runs across the student's curriculum, enriching the educational experience.

At Merit, our philosophy of teaching Writing differs greatly from other schools. In other schools, students wait until their junior year of high school to write research papers. At Merit, students begin writing research papers in elementary school and continue throughout middle and high school. We believe that students become better writers only through constant revision and individualized guidance. With our low ratio of teachers to students, every student will work one-on-one with their English teacher. This individualized attention allows the teacher to provide detailed guidance on every draft. Each paper is revised multiple times, so that students can—in time—strive to perfect their writing. To enhance writing skills, students also study grammar, vocabulary, and spelling throughout the middle school program.

To engage students in reading classic English literature, they travel to England to tour the museums and home towns of their favorite writers. The students visit Stratford-upon-Avon, home town of Shakespeare; London, Dickens and Keats; Haworth, Bronte sisters; Lake District, Wordsworth; and Alton, Austen. Prior to the start of the English Literary Tour, the students spend the school year reading English literature, watching movies and plays, discussing each book, and writing critical analyses. If the students aren't fans of English literature before the school year starts, they certainly will be by the end of the year.
top