Driver's Education
at Merit Academy High School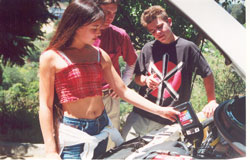 Merit Academy students learn auto shop skills like changing oil in their cars.

One of the highlights of high school is learning how to drive. Merit has a unique program designed to prepare the students to be conscientious drivers—a program that emphasizes that driving is a responsibility not to be taken lightly.

During the 9th grade summer program, students take Driver's Education. This unique program includes an internship in Auto Repair and Maintenance, where the students learn how to make basic repairs and then rebuild an engine. Because students learn how the car works, they can perform basic maintenance and make informed decisions as car owners. This sobering class will make students aware of the danger and responsibility involved in getting behind the wheel. The students tour an emergency room and rehabilitation center to meet teenagers who have abused their driving privileges and become seriously injured. They also meet with a CHP officer, a representative of Mothers against Drunk Driving, and an auto insurance representative. After completing Driver's Education, students take Driver's Training.


Articles
Young Drivers of Merit: Driver's Education Program
top