Merit Academy Summer School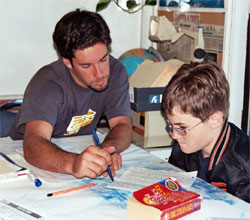 Accelerate your child's education
Merit Academy offers a comprehensive Summer School program for kindergarten to 12 th grade students. Our summer program gives students the opportunity to build stronger foundations in areas in which they need more support, at a time when they are more relaxed and not feeling overwhelmed like they do during the school year. We also provide classes for students who want to get ahead and enjoy a challenge. By taking math or science classes, or focusing on essay or research writing, students who take classes at Merit during the summer start school ready to learn.

Our summer program is open to the public and does not require any testing. Like all Merit courses, each class is taught one-on-one to ensure that each student receives the highest level of academic instruction. Classes are offered on our campus or in the convenience of your home. One of the benefits of Merit's Summer School is that you get to set the schedule: your child's classes can accommodate family vacations, special programs, and other activities.


Select from the list of courses offered or contact Merit to design a class tailored to meet your child's specific needs. Give your child the chance to get ahead this summer. Students who need school credit for summer school can take Merit Academy's accredited classes. Call 831.462.5655 or 877.357.5655 (toll free) for more information.


top