Reading
at Merit Academy Elementary School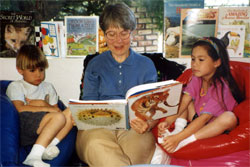 Students love to read with Merit's Reading Program!
In kindergarten through second grade, students engage in a reading program that exposes them to a wide variety of books, where they learn about past eras and different cultures, all while fostering their love of reading. Many of the books relate to concepts being studied in their History class.

Merit uses two techniques that build reading skills—phonograms and sight vocabulary. Students learn phonograms—which are clusters of letters that correspond to sounds of English—and make lists of words that contain each phonogram, helping them to sound out unfamiliar words. Students also build up their sight vocabulary—which consists of common words that aren't necessarily built from phonograms. Teachers read books that contain the sight words and phonograms reinforcing the lists the students are learning. While they learn, students also become journalists by writing articles for the Merit Chronicle, our school newspaper.

Between third and fifth grade, English grammar is introduced to help the students learn the structure of the English language. Study of grammar continues through middle school and high school.
top