Mathematics
at Merit Academy Elementary School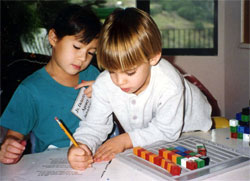 Using Unifix Cubes in math class.
Math at Merit is interactive and practical.


Teachers first teach addition, subtraction, multiplication, and division by using math manipulatives—blocks, shapes, and other objects that represent quantitative concepts. Manipulatives make mathematical concepts more tangible, bringing math alive for young students. Math exercises are added to the curriculum to reinforce concepts learned. Students are also introduced to word problems, challenging them to simultaneously improve reading comprehension while applying mathematical concepts to real world situations. Each student works at their own pace to ensure that foundational concepts are grasped before advancing to the next level.
top