Internships
at Merit Academy High School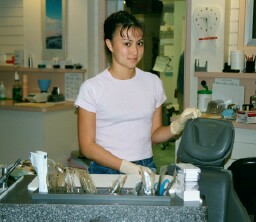 Internship: Studying Orthodontia
Many college students spend years immersed in a course of study only to find—often too late—that they've gone down the wrong career path. Merit's one-of-a-kind Internship Program prevents this problem by encouraging students to work as an intern in 16 different professional settings before going off to college. The Internship Program allows students to see for themselves whether or not they're cut out for the career they're interested in, as well as what other possibilities they have. They receive the personal guidance they need to make the right career choice.

Internships start in 9th grade. Students explore a wide variety of careers: they can work with doctors, lawyers, engineers, social workers, computer programmers, or whatever other profession interests them. Students interview professionals about their educational and professional background, discuss the pros and cons of the job, and observe the professional in their workplace. Upon completion of the 12-week internship, the students write an essay about their experience and receive a recommendation and evaluation from their mentors.
Merit Academy is located in Santa Cruz, Cupertino, and Palo Alto. Merit's headquarters are located in Santa Cruz County. Call 831.462.5655 or 877.357.5655 (toll free) to learn more.

Merit Academy is a Kindergarten through 12th Grade Independent School accredited by the Western Association of Schools and Colleges (WASC) as a Supplemental Educational Center.
top