Community Service
at Merit Academy High School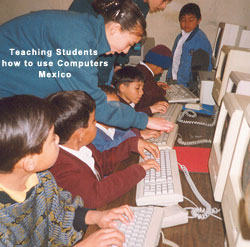 Merit students teaching students how to use computers in Mexico.
Community Service helps students gain empathy for those less fortunate and become positive contributors to the world around them. As a Merit Academy tradition, all students participate in Community Service projects. In the past, students have installed computers in a school in under-developed communities in Mexico, provided food for the homeless, donated Christmas gifts to homeless children, and set up tutoring services for at-risk students in local public schools. Merit students have also participated in the Re-enactment of the internment of Japanese American citizens during WWII to educate the public. Students are encouraged to write articles for newspapers and magazines and to speak publicly on radio and TV.

Every year, students embark upon a one-week community service project. The students take responsibility for researching the options, organizing the activities, and financing their projects. Often students focus on environmental and educational issues in developing countries.
top