After-School Enrichment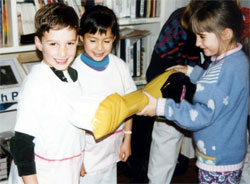 Students have fun learning in after-school programs.
Are you disappointed in the after-school programs available for your children? Worried about what your children are doing at home when you're still at work? Consider setting up an after-school program in your home. All you have to do is determine which days and hours work best for you, choose activities that your children will enjoy, and hire a teacher to work with your children. If you're concerned about costs, invite a few of your children's friends to join them and charge a tuition that covers the teacher's salary, materials, and other expenses.
Get the
The Working Mother's Guide to FREE Child Care in Your Home!
to help you set up your own after-school enrichment program. You can determine whether your children will finish their homework, explore science, learn how to cook (dinner!), create art, or have story time. If you're interested in building your children's academic foundation, you can purchase
Merit Academy's Curriculum
. This gives you the opportunity to enrich your children's lives while you're at work. It's a win-win situation.
| | | | |
| --- | --- | --- | --- |
| | | | |
Merit Academy is a Kindergarten through 12th Grade Independent School accredited by the Western Association of Schools and Colleges (WASC) as a Supplemental Educational Center.
| | |
| --- | --- |
| Questions? Try our | |
top