Study Skills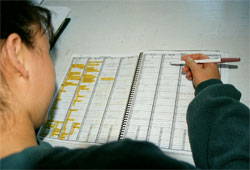 Using their planners, Merit students plan out their study schedule to ensure success.
Do your children struggle on tests, even though they understand the material and they do well on homework? Parents often explain it by saying that their children are "not good test-takers."

Often times the problem isn't innate, it just has to do with study habits. Most students wouldn't consider going to school without doing their homework, but these same students often take tests without studying for them sufficiently. Either these students don't devote enough time to studying or they don't know how to study effectively.

At Merit, students can learn the study skills they need to prepare for a test and ace it. Merit tutors work closely with each student, showing them how to fully prepare for exams. Instead of cramming, students are encouraged to study for at least four consecutive days prior to the test. For each day, we give students a specific plan for what to study and for how long. This study plan ensures that the students really learn and remember the material so they can apply what they've learned to even the most difficult questions.

Call Merit to get started now. Order your Merit Planner and give your children the tools they need to succeed!
Merit Educational Consultants are available to work with students in two capacities. On-Site Sessions are available to students in Santa Cruz, Cupertino, or Palo Alto. Merit's headquarters are located in Santa Cruz County. Call 831.462.5655 or 877.357.5655 (toll free) to get started. Online Sessions are available for students nationwide -- 24 hours per day.
| | |
| --- | --- |
| Questions? Try our | |
top