Portfolios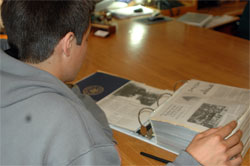 Building a comprehensive portfolio helps chronicle your accomplishments.
Students can bolster their college applications by compiling portfolios that chronicle their creative work and personal accomplishments. These portfolios, which include awards, certificates, publications, articles, and letters of recommendation, encourage students to take pride in their work and to strive towards their potential. Merit College Advisors even coach students on how to build these portfolios and make them shine.
Merit College Advisors are available to work with students in two capacities. On-Site Sessions are available to students in Santa Cruz, Cupertino, or Palo Alto. Merit's headquarters are located in Santa Cruz County. Call 831.462.5655 or 877.357.5655 (toll free) to get started. Online Sessions are available for students nationwide -- 24 hours per day.
| | |
| --- | --- |
| Questions? Try our | |
top