Literature
at Merit Academy High School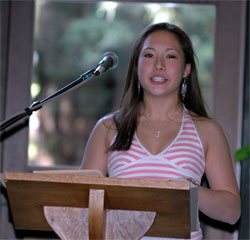 Accepting 1st Place Award at UCSC's Book Collection Essay Contest
In addition to English, Merit's Literature course is required for four years. Merit's Literature program focuses on critical analysis of novels and plays. The students read a variety of literary classics to foster their love of reading, to develop an appreciation of major literary genres, and to develop a skill for interpretation and analysis. In-class readings are used to stimulate class critical analysis and discussions.

Our Literature courses are often coordinated with our History courses. In Literature classes, students read novels that are linked to time periods, geographical regions, or social issues being taught in History. Students also read literature that focuses on politics, inner self, interpersonal relationships, and religion. This coordination builds a sense of continuity that runs across the student's curriculum, enriching the educational experience.

Literature courses foster critical analysis. Students discuss the readings with their teachers to analyze and interpret literary elements such as characterization, plot, and style. Students then analyze the novels more independently through critical essays. They write an essay for each novel they read. Each essay is revised and edited multiple times so that students strive towards perfection.
top