History
at Merit Academy High School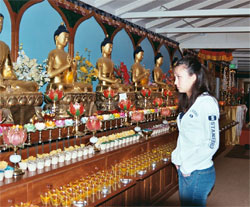 Visiting a Buddhist temple - all students study world religions in 12th grade.
The History program at Merit offers a comprehensive study of humanity's past, helping students understand who they are as members of a global society. Historical knowledge is the background against which students can understand the struggles of the modern world and the problems of the future. Students who understand the struggles of history make well-rounded thinkers and citizens because they have a better appreciation of current international issues and a deeper respect for the diversity of different cultures.

Merit Academy's elementary and middle school History curricula is organized in chronological order starting first with a study of the child (autobiography to genealogy) and then with the beginning of the universe to modern civilization. In high school, we start with a comprehensive study of our nation as we introduce United States History. World History follows, covering the period between 1200AD and present.

Civics and Economics give the students the foundation needed to understand the complex political structure of American democracy and how it ties into world economics. Next, students study World Religions to broaden their perspectives on organized religions, and Psychology to prepare them for interpersonal relationships as they become young adults.

All History courses require major research papers and essays. Through the high school program, students write 12 research papers. The formats include comparison, argument, biography, and treatise. Teachers guide students through each step of the writing process. Students deliver speeches about their research and present timelines of events. For extra credit, students may build a project that relates to their studies.
Merit Academy is located in Santa Cruz, Cupertino, and Palo Alto. Merit's headquarters are located in Santa Cruz County. Call 831.462.5655 or 877.357.5655 (toll free) to learn more.

Merit Academy is a Kindergarten through 12th Grade Independent School accredited by the Western Association of Schools and Colleges (WASC) as a Supplemental Educational Center.
top