English
at Merit Academy High School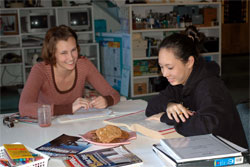 Learning English grammar, vocabulary, and writing mechanics at Merit.
In English classes, students learn the skills to express sophisticated ideas accurately and fluently. English skills are an essential foundation because they carry over to the many other disciplines in which writing is crucial. Students who excel at writing can excel throughout the humanities, the sciences, and beyond.

Students are required to study English for four years. Lessons focus in depth on grammar, vocabulary, and word usage. Daily exercises reinforce these concepts. Weekly vocabulary lists expand students' verbal fluency. Critical evaluation of word usage helps students understand why writers make the choices they do. This also ties into their SAT/ACT preparation.

Writing is also central to the English program. Responding to prompts, the students write hundreds of essays on a diverse range of topics. Teachers guide students through the revision and editing processes. Students also write weekly newspaper articles and editorials for the Merit Chronicle. They also read and analyze contemporary prose. Through reading other's writing and writing their own journalism, students gain an appreciation for different styles of prose.
Merit Academy is located in Santa Cruz, Cupertino, and Palo Alto. Merit's headquarters are located in Santa Cruz County. Call 831.462.5655 or 877.357.5655 (toll free) to learn more.

Merit Academy is a Kindergarten through 12th Grade Independent School accredited by the Western Association of Schools and Colleges (WASC) as a Supplemental Educational Center.
top