Fine & Applied Arts
at Merit Academy High School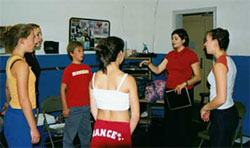 Merit students taking voice lessons for musical theater production.
There are a number of activities through which students can express themselves artistically. Music Theory is offered at Merit Academy during the freshman year. Applied and Fine Arts are offered during the summer program, either as elective courses through the university or as an independent study at Merit. Voice Training is offered throughout the year with intensive voice lessons included in our summer program's musical theater.

Students are also encouraged to master at least one musical instrument. Private piano and voice lessons offer students the opportunity to learn musical and sight-reading skills.
top