Art
at Merit Academy Elementary School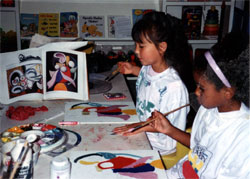 Merit Academy Students Reproduce the Masters' Paintings as They Learn About the Artists, Techniques, and Art History
Merit Academy students explore art both from a hands-on and historical perspective.

Working with their art teachers, the students learn how to work with colors using paints, pastels, clay, and even computers. Exploring fun new mediums, students are encouraged to play and experiment with new forms of art.

Many art projects tie into the topics students are studying in History. Students reproduce cave paintings, they sculpt clay replicas of trilobites, they make Mayan masks, they sculpt architectural structures, they reproduce medieval and Renaissance paintings, and they reproduce the first forms of written communication—such as Egyptian hieroglyphics and ancient Chinese characters. Merit's music program introduces piano, wind instruments, and voice.

With weekly instrument lessons, the students become familiar with reading music as well as basic musical concepts. Students listen to audiotapes to learn to recognize the sounds of different musical instruments and the characteristics of different historical periods. Students attend live musical events.
top